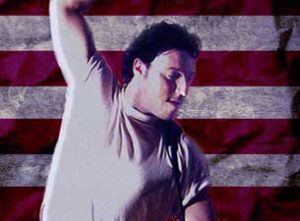 Las Vegas, June 18, 2014/ PR Buzz News Wire/ — Bruce In The USA, now in its second decade earning its billing as The World's Greatest Tribute to Bruce Springsteen and the E Street Band, begins its Summer 2014 tour tomorrow in Bruce's home state of New Jersey and will travel the Eastern US before setting off for Europe in September.
The tour will feature the July 4 debut of Symphonic Springsteen — the music of Bruce Springsteen arranged for symphony orchestra and band — with the Symphony Orchestra of Virginia Beach. Performance will be on the 20th street stage at Virginia Beach, VA.
Bruce In The USA's winter and spring schedule included a live performance on AXS TV's Worlds Greatest Tribute Bands, broadcast from the famous Whiskey A Go Go club in Los Angeles. This summer, the band will travel as far North as Canada, South to Atlanta, West to Chicago and East to its special 4th of July performance of Symphonic Springsteen with the Symphony Orchestra of Virginia Beach .
The Summer tour features more than 30 appearances before the band sets off for Europe — its fourth such trip — in September. The full schedule:
June 19 Voorhees Sumer Twilight Series – Voorhees, NJ
June 20 Levoy Theatre – Millville, NJ
June 21 Private Event Washington, DC
July 2 Lock 3 Live Akron, OH
July 3 Lillian Web Park Norcross, GA
July 4 The Symphony Orchestra Of Virginia Beach 20th street, Virginia Beach, VA
July 5 Tarara Winery Toast to The Tunes Leesburg, VA
July 6 Fager's Island Ocean City, MD
July 12 The Magic Bag Detroit, MI
July 13 Roscoe Village Burger Fest Chicago, IL
July 19 Festival Italiana – "Summerfest Grounds" Milwaukee, WI
July 20 Festival Italiana – "Summerfest Grounds" Milwaukee, WI
July 23 Greg Frewin Theatre Niagara Falls, Canada
July 24 Edison Ballroom (Private Event) NY, NY
July 25 Blue Ocean Music Hall Salisbury, MA
July 26 Pickle Barrel Killington, VT
July 30 Tanner Park Copiague, NY
July 31 Chesapeake Beach Resort Chesapeake Beach, MD
Aug 1 Station Square Pittsburgh, PA
Aug 2 Widewater Beach Fest Stafford, VA
Aug 3 The Starboard Dewey Beach, DE
Aug 6 Claridge Hotel – Main Showroom Atlantic City, NJ
Aug 7 Claridge Hotel – Main Showroom Atlantic City, NJ
Aug 8 Claridge Hotel – Main Showroom Atlantic City, NJ
Aug 9 Claridge Hotel – Main Showroom Atlantic City, NJ
Aug 10 Claridge Hotel – Main Showroom Atlantic City, NJ
Aug 16 Douse The House – Benefit Concert Cleveland, OH
Aug 30 Matthews Alive Festival Matthews, NC
Aug 31 North Theatre Danville, VA
Sep 5 Freeman Stage Bethany Beach, DE
Sep 6 The Starboard Dewey Beach, DE
Sep 11 Europe Tour Holland, TBA