Atticus Finch's musical credits read like a who's who of Musicians.
Atticus brings years of top level touring and performing experience to Bruce In The USA. Atticus's soulful organ playing and electric on stage performance has been a valuable asset to so many great artist over the years. Bruce In The USA is honored to have his great talent in the band.

Tours with Recording Artists

The O'Jays – U.S. & Caribean Islands 92-2002.2011
Lucinda Williams – U.S. & Canada 99(support act for Tom Petty Echo Tour and Allman Brothers 30th anniversary tour)
Stephanie Mills – U.S. 96
Nina Hagen – U.S., Canada & Europe 89-94 (Musical Director)
Cyndi Lauper – Europe 93 ( "Hat full of Stars" tour )
Debbie Gibson – U.S. & Asia 91 ("Possibilities" Tour)
Taylor Dayne – U.S. & Japan 90
Chris Spedding – U.S. 89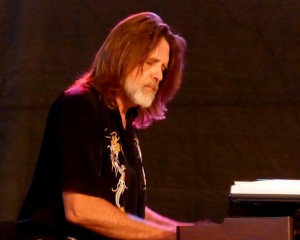 La La – U.S. 88
Nona Hendryx – U.S. & Europe 87-88
Aretha Franklin – U.S. 85-86
Steve Camp – U.S. 84
Willie Nile – U.S. 78-81
The Revelons – U.S. 81
Dave Perkins – U.S. 78-81
— 73-74 — Musical director for house band at LA's ETC club, featuring Canadian Jazz singer Dee Daniels
Yuseff Lateef – US 72
Western Washington State Jazz Ensemble US 71 (Winner Downbeat jazz poll-Best West Coast College Stage Band 71)
Ray Franklynn Orchestra US 70
Carla Thomas – US 69 (while still in high school)
The Box Tops – US 68-69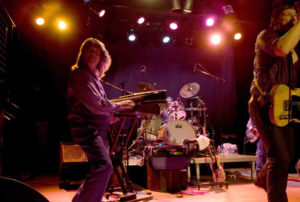 Lionel Hampton Japan (USO) 66 (featured "child" accordionist)
Artists Worked With In Concert as Sideman
Bonnie Bramlett, Debbie Burrell, Paul Butterfield, Vassar Clements, Teddy Pendegrass , Papa John Creech, Phil Keagey, Steve Taylor, Tony Sarno, Elvin Bishop, K.C. & JoJo, Keith Sweat, Lilo Thomas, Destiny's Child, The Dirt Band, Hubert Sumlin, Loretta Divine, Emmylou Harris, Elvis Costello, B.J. Thomas, Russ Taft, Wet Willie, Jerry Jeff Walker, Crystal Gayle, Jennifer Holiday, Lync Ray, Gerald Levert, Bobby Bare, Jill Jones, Florence Henderson, Charlie Daniels Band, Stephan Grapelli, The Nighthawks, Natalie Cole, Anthony Kiedis, Jeff Gollub, Patty Lovelace, Maria Muldare, Yolanda Adams, Jaco Pastorios, and Dee Daniels

Artists worked with in studio

Cyndi Lauper, Doro, Aztec Camera, The Beat, Ric Cua, The Blackwood Brothers, Johnny Cash, Bobby Bare, Randy Stonehill, David Johansen, The Revelons, Willie Nile, Russ Taft, The O'Jays, The Village People, Steve Taylor, Nona Hendryx, Nina Hagen, Dave Perkins, Nathan East, Bridget St. John, Robbie Robertson, Latoya Jackson, Jodi Whatley, Jerry Maratta, ++

TELIVISION SHOWS

Good Morning America, The Today Show, The Tonight Show, Late Night with David Letterman, Motown Live, Arsenio Hall Show, Vibe, ShowTime at the Apollo, Hardrock Live, Sinbad,'s Summer Jam, Top of the Pops,
Jerry Lewis Telethon, The Essense Awards, The Oprah Show,Taquita and Kaui (MTV)

MOVIE SOUNDTRACKS

HELL HUNTERS Sound Design / Composer
SiILENT HARMONY Sound Design / Composer / Performer THE INHERITOR Sound Design / Composer / Performer STRAYS (PBS) Composer / Performer

THE "VEGAS YEARS" 2002-PRESENT DAY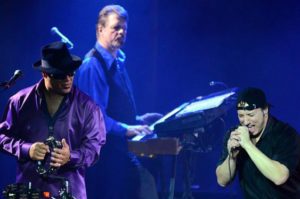 SOUL DESIRE—3 Year show at New York New York Casino
AMERICAN POP—2 Years tribute artist show at New York New York Casino
LEGENDS IN CONCERT—Tribute artist show 5 years at The Imperial Palace Casino ZOWIE BOWIE VINTAGE VEGAS BID BAND—1 year at Monty Carlo Casino
LOUIS PRIMA JR.—I Year The Palms, Hilton, and other venues
BRUCE IN THE USA—Tribute show at Alladin Casino and international touring act
Also many "one nighters" and USO shows in Japan and USO radio broadcasts from Vegas.