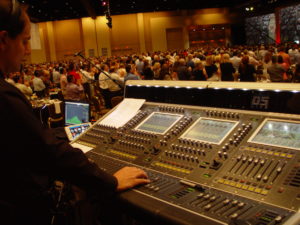 Mike Macaluso became a friend of Bruce In the USA after working with us as our audio engineer on several gigs in Florida. What stuck out about Mike other than him being an amazing engineer is his vast knowledge of the works of Bruce Springsteen. Not only does Mike know technical aspects to the inner workings of a Springsteen concert, Mike is a huge fan! He has the most expansive collection of concert bootleg and rare Springsteen recordings we have ever heard of.
We were so blown away by Mikes extensive Bruce library, his passion for Bruce's music and Mike's first hand technical knowledge of bruce's touring machine, that we asked him to be a regular guest blogger on Bruceintheusa.com. Mike has so much knowledge and love for this great music, we just had to get the word out. Mike's Radio show is amazing. He picks wonderful gems from Bruce's first gigs to the present. This is a must for the "Die Hard" Springsteen Fan.
Mike shares his vast knowledge and library of Springsteen music Weekly on his own internet radio show "Rare Springsteen". Here is a link to his site for showtimes.
http://www.ustream.tv/channel/rare-springsteen

Facebook for Rare Springsteen
http://www.facebook.com/pages/Rare-Springsteen-Radio

More About Mike Macaluso
Mike Macaluso is an audio engineer and owner of MAC Production Group in Orlando, FL.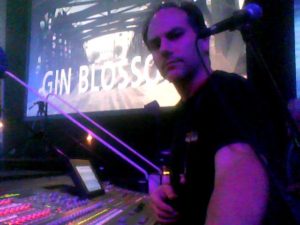 AT age 13, while playing in a garage band Mike did his first audio gig (wrapping cables & moving gear) for John Cafferty at The Fast Lane in Asbury Park, NJ. In 1984, Mike's uncle introduced him to Bruce Jackson(Springsteen's Audio Engineer from 1978-1988), who invited Mike to hang out with him and learn about sound. Mike would spend every weekend and as much additional time as possible learning sound engineering from Mr. Jackson on the "Born in the USA tour".
After this great experience, Mike went on to work as a professional audio engineer. Mike would work with a multitude of headline acts like- The Grateful Dead, the Eagles and dozens more.
In 1992 after meeting Albert Lecesse (Audio System Designer for Springsteen), Mike would work as system tech on much of the Human Touch / Lucky Town tour. In 1994, Mike moved to the warmer climate of sunny Florida to start his own production business. Mike would continue to work with Al off and on, doing one-off shows with Bruce Springsteen for the next decade. As Mike built his new business (MAC Production Group Inc) . He also taught live audio engineering for a short time.
In 2001, he married his long time sweetheart and sometimes monitor engineer Kristie. He currently resides in Orlando, FL with Kristie, their daughter Skylar, and their two dogs, Methos and Poochini.
Mike can be contacted at Facebook at http://www.facebook.com/rarespringsteen