"Bruce In The USA"…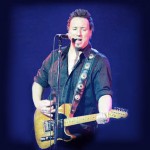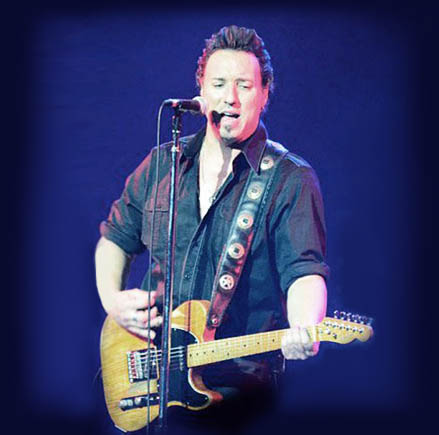 Going about the business of putting together a tribute show is one thing. Going about creating a tribute show to a musical icon like Bruce Springsteen is touchy turf. The thing is, Bruce Springsteen is, well, Bruce Springsteen, and as far as die-hard fans are concerned, don't try to pretend otherwise. If you're going to do a take on him it better be on point or you're gonna get laughed off the stage.
Well, Matt Ryan's "Bruce In The USA" is a note-for-note dead on and a visually accurate recreation of a Springsteen and E Street Band show. Ryan has some experience in the role of "The Boss." He has been a cast member of the prestigious father of all tribute shows, "Legends in Concert" since 2000. He transformed that role into a stand-alone touring show which comes to Laughlin for the first time.
This show is more than just Ryan as Springsteen. He is backed by a band of veteran world-class professional musicians who have played for bands and acts everywhere from Queen and Meatloaf to Blue Oyster Cult, Hall & Oats, Joe Cocker and Aretha Franklin. Band members include Matthew Sully on guitar; Dave McLaurin on sax (portraying the Clarence Clemons character); Joey Lunsford on piano; Atticus Finch on organ and keys; Danny Miranda on bass; and Jay Nichois on drums.
We talked with Matt Ryan via a phone interview. Here's his take on…
The beginning…
RYAN: It was a running joke from an early age that I looked and sounded like Bruce Springsteen. That kept coming to the plate, but it's something I had never done. For a long time, I was involved in theater, mostly behind the scenes.
They had been looking for a Springsteen performer to be part of 'Legends in Concert' in Las Vegas since '84. There had never been one represented in the cast. Then I get a call from a producer friend that came at the right time for the right money and I said 'okay' and signed a year contract. Within a couple of months the character was a hit—the phone kept ringing.
Forming his own show…
RYAN: It was about nine years ago that the concept for the show 'Bruce In The USA' came about. My business partner, Matthew Sully, who plays the 'Little Stevie' character, and I put a full cast together, pulling in all these different colorfully decorated musicians. We immediately began performing in certain theaters in Vegas and on the East Coast. In a short time, our touring show became a national touring act.
On being "The Boss"…
RYAN: His character comes alive in the singing and the delivering of a lot of words in a short period of time. It's high voltage, top-of-your-singing—balls to the walls. It's like the school of James Brown—it's all or nothing on stage—and is an extremely challenging gig…the hardest thing I've ever done.
He's an original—a genius in many ways—and our recreation suspends disbelief and lets people enjoy the music delivered as soulful as possible.
The songs…
RYAN: Springsteen has between 350-400 songs. He's Jersey born and when we play the East Coast, they don't just want to hear 'Born in the USA,' they want the deep cuts—and we deliver. What we've found that keeps it interesting is the music is challenging—it has depth and is well-written.
If we were doing a Duran Duran tribute, we would have been done with it in about a year—if we hadn't shot ourselves in the head before then. We're playing music we feel strongly about, to the point it becomes something else. There are musicians who chase a check, playing music they don't like. But for us, there's something about this music that keeps us all glued together.
Fifty percent of the show is the lyrics. He gives audience members the feeling he's speaking directly to them. They aren't just 'hooky' songs, they're about stories and characters. They're in people's hearts.
The show…
RYAN: There are some young people in the audience, but 30 to 65 seems to be the largest part of our demographic. They have dinner, the whiskey is flowing and they're happy to be singing along. There's almost a gospel-like atmosphere going on because a lot of people get caught up in the music.
We take the music seriously, but sometimes our portrayal is with tongue-in-cheek that allows to know we're not thinking we're Bruce and the E Street Band. We're giving them all we have, but we're not insane. We don't have 'impersonator syndrome,' where you might see 'Elvis' in the grocery store. Our portrayal ends when we leave the stage.
I think what sets us apart is we have a bunch of respect for all live music, which these days is being replaced at venues by any DJ with an ipod. There's nothing out there on the performance arts level like this—delivering the music with this crop of great musicians is what makes this show great.
The brotherhood…
RYAN: The great thing about these guys is that we travel well together and actually get along. There are good feelings, a sense of brotherhood and it's become a special part of the show. That's something you can't fake.
Crowd favorite…
RYAN: "'Jungleland,' especially now since Clarence Clemons has passed. It has become that moment in the night that you can hear a pin drop. It's like everybody's in church. There's dead silence and when there's a thousand people in the room, it's something very significant that's happening. It's a backbone song and it has now become something deeper."

Original Article at LaughlinEntertainment.com