Thank you Mike for your review. I must note that it is I who has delayed this post due to our busy summer schedule. It is I who must apologize to you! This was ready two weeks ago. Sorry, Sully
Springsteen and I Movie Review by Mike Macaluso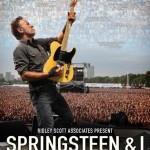 I first must apologize to Sully for the delay in getting this review out. I've been mixing many terrible (and some good) bands and doing several corporate events, working 15 to 18 hour days. Thanks for your patience. Those awful bands are the reason why I appreciate doing sound for Bruce in the USA.
So… there is a documentary film about Bruce Springsteen in the movie theater? Actually, it's more about the crazy fans of Bruce and his music and what it's meant to them over the years.
The film was released in about 2000 theaters worldwide on July 22nd, with a "special" ticket price of $15. Most theaters did not dedicate a room to these limited showings, but displaced another film for a three-hour period. Some theaters had exactly zero patrons for the first showing. My first viewing had two others in attendance, and my second viewing had 21 ferocious Bruce Springsteen fans to share the film with, several of which had been to the Bruce in the USA show at the Mt. Dora, FL music festival, this past spring.
This British film marks the 40th Anniversary of Bruce's first album, Greetings from Asbury Park, NJ, and compiles self-produced clips from fans, live performances along with a few professionally produced segments, and an epilogue of several of the key characters in the film who were the contest winners.
Many of the love stories told by fans, for Bruce Springsteen the man and his music were touching, exciting and even reminiscent of stories we've heard in the past. The stories that spoke to me most were those of the Philly Elvis' (Nick Ferraro) Working on a Dream tour story of being invited on stage by Bruce, and John Magnusson, a street musician in Copenhagen, Denmark, who had a street encounter with Bruce in 1988 and performed with Bruce to a small crowd. The non-fan who spoke of his experiences with his wife following Bruce around Europe, and taking him with her, was filled with witty banter There were two uncomfortable parts (at least for me)– the couple dancing to "Radio Nowhere" in their kitchen, for WAYYY too long on-screen, and the man in Jersey telling of what Bruce means to him and sobbing for over a minute on–screen. I do understand the sentiment, but WOW! Way too much.
For me the best parts were the rare live performances that were shown between segments, although all have been seen before (but I have most of them in better quality than those used in the film), except the longer segment of "Blood Brother" from July 1, 2000 in New York City that was used. The addition of the six songs from the 2012 Hard Rock Calling festival, that have been shown on the small screen was also a great highlight. It was great to see these big screen performances of "Thunder Road", "Because The Night", "Shackled And Drawn", "We Are Alive", "I Saw Her Standing There" and "Twist And Shout".
In the end, for most, it's the music that we are here for. Springsteen & I does capture the fanaticism of many Bruce fans, from the love of his music and lyrics, to how those songs in some way "saved their life" and even how they appreciate every aspect of Bruce – in my opinion going too far as some do with far too many actors, musical performers and other public figures. I would suggest that this film is something that those real Bruce fanatics could enjoy, just for the reminiscence of it; and every casual fan should view it to truly understand what the music and perhaps more of Bruce Springsteen can do and mean to them – if they choose to take on the challenge.
Springsteen and I Movie Review by Mike Macaluso