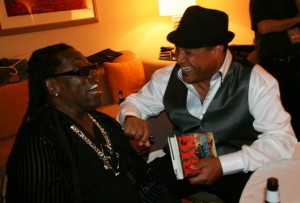 I was honored when Clarence and I finally got to meet. We had mutual friends from the business and oddly enough, from his hometown. We laughed, we talked shop and he expressed a want to stay in touch. I was humbled by his kindness and had hoped that this would have been a long and lasting friendship. Sadly, it was very short lived. He passed several months after we met.
My thoughts of him are filled with laughter and a better understanding of the man himself and his music.
What Clarence gave was a platform for the music to have an even broader canvas for the public to embrace. Clarence will always be an indelible link to Bruce Springsteen and the whole mystique of a Rock and Roll Saxophonist. You cannot mention Rock and Roll Saxophone in this era without mentioning "The Big Man".
In order to respect the Artist, You must respect the Art first. This "Big Man" was a True Artist at what he laid out for Bruce and so many other Artists.
All my respect! Thank you for the inspiration.
Play on "BIG MAN"…Play on……
To Clarence Clemons…The Jungleland Solo